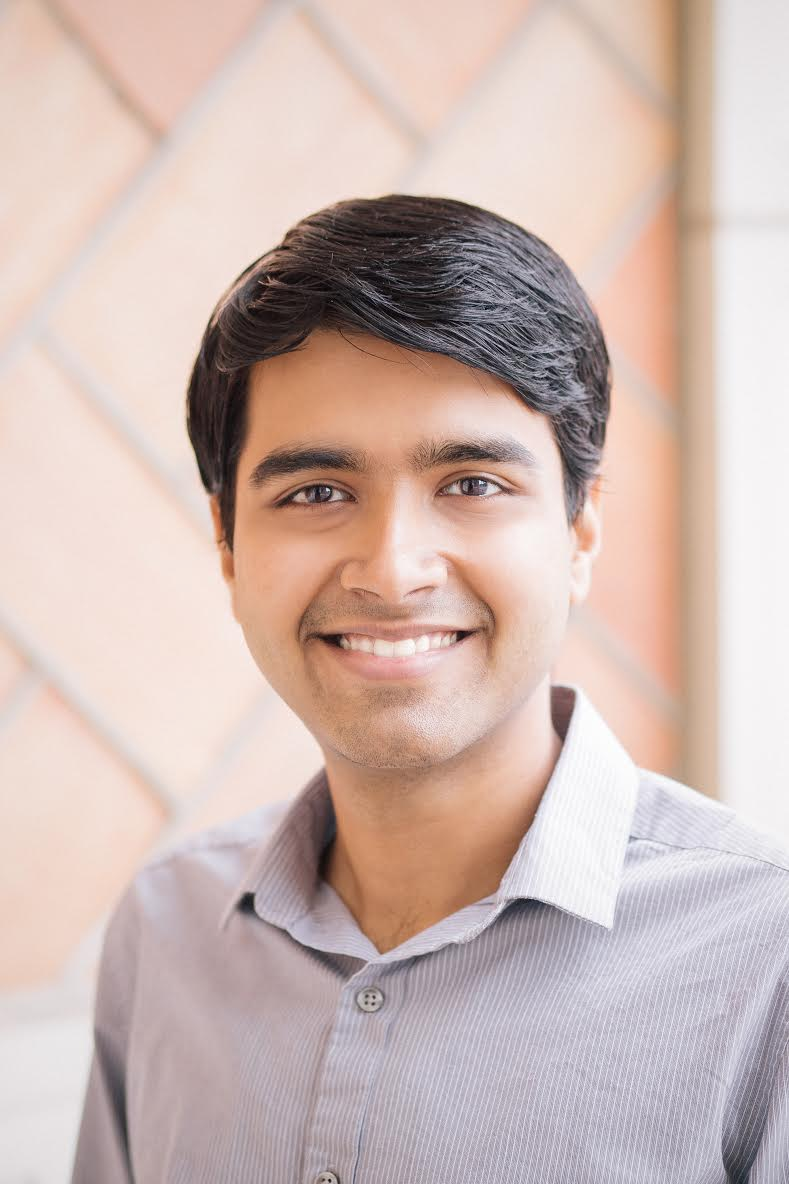 Swarun Kumar

Associate Professor, Electrical and Computer Engineering
Carnegie Mellon University


Office: CIC Rm. 4113,
4720 Forbes Ave., Pittsburgh, PA 15213
Email:
swarun [at] cmu [dot] edu
---
Assistant:
Dawn Sienko,
Email: dsienko [at] andrew [dot] cmu [dot] edu
Phone: (412)-268-9192
I am an Associate Professor at Carnegie Mellon University's ECE department, with an affiliate appointment in the CS department, the HCI Insitute and Cylab. My research builds next-generation wireless network protocols and services. I lead the Emerging Wireless Technologies (WiTech) lab at CMU. I am a recipient of the 2021 SIGBED Early Career Researcher award, the NSF CAREER award and Google Faculty Research award. I received the George Sprowls Award for best Ph.D thesis in Computer Science at MIT and the President of India gold medal at IIT Madras.
SELECTED PUBLICATIONS
NFCapsule: An Ingestible Sensor Pill for Eosinophilic Esophagitis Detection Based on Near-field Coupling, Junbo Zhang, Gaurav Balakrishnan, Sruti Srinidhi, Arnav Bhat, Swarun Kumar and Christopher Bettinger, SenSys 2022 [PAPER] [WEBSITE]


PLatter: On the Feasibility of Building-scale Power Line Backscatter, Junbo Zhang, Elahe Soltanaghaei, Artur Balanuta, Reese Grimsley, Swarun Kumar and Anthony Rowe, NSDI 2022 [PAPER] [WEBSITE]


Exploring mmWave Radar and Camera Fusion for High-Resolution and Long-Range Depth Imaging, Akarsh Prabhakara (Co-Primary), Diana Zhang (Co-Primary), Chao Li, Sirajum Munir, Aswin Sankaranarayanan, Anthony Rowe and Swarun Kumar, IROS 2022 [PAPER] [SLIDES] [WEBSITE]


Toolbox Release: A WiFi-Based Relative Bearing Sensor for Robotics, Ninad Jadhav, Weiying Wang, Diana Zhang, Swarun Kumar and Stephanie Gil, IROS 2022 [WEBSITE]


Ultra Low-Latency Backscatter for Fast-moving Location Tracking, Jingxian Wang, Vaishnavi Ranganathan, Jonathan Lester and Swarun Kumar, UbiComp 2022 [WEBSITE]


SelfieStick: Towards Earth Imaging from a Low-Cost Ground Module Using LEO Satellites, Vaibhav Singh, Osman Yagan and Swarun Kumar, IPSN 2022 [PAPER] [WEBSITE]


MiLTOn: Sensing Product Integrity without Opening the Box using Non-Invasive Acoustic Vibrometry, Akshay Gadre, Deepak Vasisht, Nikunj Raghuvanshi, Bodhi Priyantha, Manikanta Kotaru, Swarun Kumar and Ranveer Chandra , IPSN 2022 [PAPER] [WEBSITE]


Exploring the Needs of Users for Supporting Privacy-protective Behavior in Smart Homes, Haojian Jin, Boyuan Guo, Rituparna Roychoudhury, Yaxing Yao, Swarun Kumar, Yuvraj Agarwal and Jason Hong, CHI 2022 [WEBSITE]


Lean Privacy Review: Collecting Users' Privacy Concerns of Data Practices at a Low Cost, Haojian Jin, Hong Shen, Mayank Jain, Swarun Kumar, and Jason Hong, TOCHI 2021 [PAPER] [WEBSITE]


TagFi: Locating Ultra-Low Power WiFi Tags Using Unmodified WiFi Infrastructure, Elahe Soltanaghaei, Adwait Dongare, Akarsh Prabhakara, Swarun Kumar, Anthony Rowe and Kamin Whitehouse, UbiComp 2021 [PAPER] [WEBSITE]


OwLL: Accurate LoRa Localization using the TV Whitespaces, Atul Bansal, Akshay Gadre, Vaibhav Singh, Anthony Rowe, Bob Iannucci and Swarun Kumar, IPSN 2021 [PAPER] [WEBSITE]


Locating Everyday Objects using NFC Textiles, Jingxian Wang (Co-Primary), Junbo Zhang (Co-Primary), Ke Li, Chengfeng Pan, Carmel Majidi and Swarun Kumar, IPSN 2021 (Best Paper Award) [PAPER] [WEBSITE]


Millimetro: mmWave Retro-Reflective Tags for Accurate, Long Range Localization, Elahe Soltanaghaei (Co-Primary), Akarsh Prabhakara (Co-Primary), Artur Balanuta (Co-Primary), Matthew Anderson, Jan M. Rabaey, Swarun Kumar and Anthony Rowe, MobiCom 2021 [PAPER] [WEBSITE]


A Community-Driven Approach to Democratize Access to Satellite Ground Stations, Vaibhav Singh, Akarsh Prabhakara, Diana Zhang, Osman Yagan and Swarun Kumar, MobiCom 2021 [PAPER] [WEBSITE]


Quick (and Dirty) Aggregate Queries on Low-Power WANs, Akshay Gadre, Fan Yi, Anthony Rowe, Bob Iannucci and Swarun Kumar, IPSN 2020 (Best Paper Award) [PAPER] [WEBSITE]


Full Duplex Radios: Are we there yet?, Vaibhav Singh (Co-Primary), Akshay Gadre (Co-Primary) and Swarun Kumar, HotNets 2020 [PAPER] [WEBSITE]


Cross Technology Distributed MIMO for Low Power IoT, Revathy Narayanan, Swarun Kumar and C. Siva Ram Murthy, IEEE Transactions on Mobile Computing 2020 [WEBSITE]


Joltik: Enabling Energy-Efficient "Future-Proof" Analytics on Low-Power Wide-Area Networks, Mingran Yang, Junbo Zhang, Akshay Gadre, Zaoxing Liu, Swarun Kumar and Vyas Sekar, MobiCom 2020 [PAPER] [WEBSITE]


Osprey: A mmWave Approach to Tire Wear Sensing, Akarsh Prabhakara, Vaibhav Singh, Swarun Kumar and Anthony Rowe, MobiSys 2020 (Best Paper Honorable Mention) [PAPER] [SLIDES] [WEBSITE]


A Cloud-Optimized Link Layer for Low-Power Wide-Area Networks, Artur Balanuta, Nuno Pereira, Swarun Kumar and Anthony Rowe, MobiSys 2020 [PAPER] [WEBSITE]


Evolutionary Adaptations on Clustered Contact Networks, Rashad Eletreby, Yong Zhuang, Swarun Kumar and Osman Yagan, NetSci 2020 [PAPER] [WEBSITE]


Quick (and Dirty) Aggregate Queries on Low-Power WANs, Akshay Gadre, Fan Yi, Anthony Rowe, Bob Iannucci and Swarun Kumar, IPSN 2020 (Best Paper Award) [PAPER] [WEBSITE]


Millimeter-Wave Full Duplex Radios, Vaibhav Singh, Susnata Mondal, Akshay Gadre, Milind Srivastava, Jeyanandh Paramesh and Swarun Kumar, MobiCom 2020 [PAPER] [SLIDES] [WEBSITE]


Frequency Configuration for Low-Power Wide-Area Networks in a Heartbeat, Akshay Gadre, Revathy Narayanan, Anh Luong, Swarun Kumar, Anthony Rowe and Bob Iannucci, NSDI 2020 [PAPER] [WEBSITE]


RFID Tattoo: A Wireless Platform for Speech Recognition , Jingxian Wang, Chengfeng Pan, Haojian Jin, Vaibhav Singh, Yash Jain, Jason Hong, Carmel Majidi and Swarun Kumar, UbiComp 2020 (Best Wearables Long Paper) [PAPER] [WEBSITE]


You foot the bill! Attacking NFC with passive relays, Yuyi Sun, Swarun Kumar, Shibo He, Jiming Chen and Zhiguo Shi, IEEE IoT Journal 2020 [WEBSITE]


Silver-Coated PDMS Beads for Soft, Stretchable, and Thermally Stable Conductive Elastomer Composites , Chengfeng Pan, Yun Sik Ohm, Jingxian Wang, Michael J. Ford, Kitty Kumar, Swarun Kumar, and Carmel Majidi, ACS applied materials and interfaces 2019


Sozu: Self-Powered Radio Tags for Building-Scale Activity Sensing , Yang Zhang, Yasha Iravantchi, Haojian Jin, Swarun Kumar, and Chris Harrison, UIST 2019 [PAPER] [WEBSITE]


Perspective: eliminating channel feedback in next generation cellular networks , Deepak Vasisht, Swarun Kumar, Hariharan Rahul and Dina Katabi, ACM SIGCOMM CCR 2019


Software Defined Cooking using a Microwave Oven , Haojian Jin, Jingxian Wang, Swarun Kumar and Jason Hong, MobiCom 2019 (ACM GetMobile Research Hightlight) [PAPER] [SLIDES] [WEBSITE]


On the Feasibility of Wi-Fi Based Material Sensing , Diana Zhang, Jingxian Wang, Junsu Jang, Junbo Zhang, Swarun Kumar, MobiCom 2019 [PAPER] [SLIDES] [WEBSITE]


Pushing the Range Limits of Commercial Passive RFIDs , Jingxian Wang, Junbo Zhang, Rajarshi Saha, Haojian Jin, Swarun Kumar, NSDI 2019 [PAPER] [WEBSITE]


Revisiting Software Defined Radios in the IoT Era , Revathy Narayanan, Swarun Kumar, HotNets 2018


WiSh: Towards a Wireless Shape-aware World , Haojian Jin, Jingxian Wang, Zhijian Yang, Swarun Kumar, Jason Hong, MobiSys 2018 [PAPER] [WEBSITE]


Charm: Exploiting Geographical Diversity Through Coherent Combining in Low-Power Wide-Area Networks , Adwait Dongare, Revathy Narayanan, Akshay Gadre, Artur Balanuta, Anh Luong, Swarun Kumar, Bob Iannucci, Anthony Rowe, IPSN 2018 (Best Paper Award) [PAPER] [WEBSITE]


A Deep Learning Approach to IoT Authentication , Rajshekhar Das, Akshay Gadre, Shanghang Zhang, Swarun Kumar and Jose Moura, ICC 2018 [PAPER] [WEBSITE]


Towards Wearable Everyday Body-Frame Tracking , Haojian Jin, Zhijian Yang, Swarun Kumar, and Jason Hong, UbiComp 2018 (Best Demo Honorable Mention) [PAPER] [SLIDES] [WEBSITE]


Empowering Low-Power Wide Area Networks in Urban Settings , Rashad Eletreby, Diana Zhang, Swarun Kumar, and Osman Yagan, SIGCOMM 2017 [PAPER] [SLIDES] [WEBSITE]


Eliminating Channel Feedback in Next-Generation Cellular Networks , Deepak Vasisht, Swarun Kumar, Hariharan Rahul and Dina Katabi, SIGCOMM 2016 (Best Paper Award, GetMobile Research Highlight)


Decimeter-Level Localization with a Single WiFi , Access Point, Deepak Vasisht, Swarun Kumar and Dina Katabi, NSDI 2016


TEACHING
18-213/613 (Computer Systems), Fall 2021
18-441/741 (Computer Networks), Spring 2018-21
18-859G (Wireless Networks and Mobile Systems -- DARPA SC2 Edition), Fall 2017-19
18-345 (Intro to Telecommunication Networks), Spring 2017
18-859F (Wireless Networks and Mobile Computing), Spring 2016
Ph.D STUDENTS
Ph.D. ALUMNI
Diana Zhang (Graduated in 2021 to join John Hopkins University - Applied Physics Lab)
POST-DOCTORAL RESEARCHERS