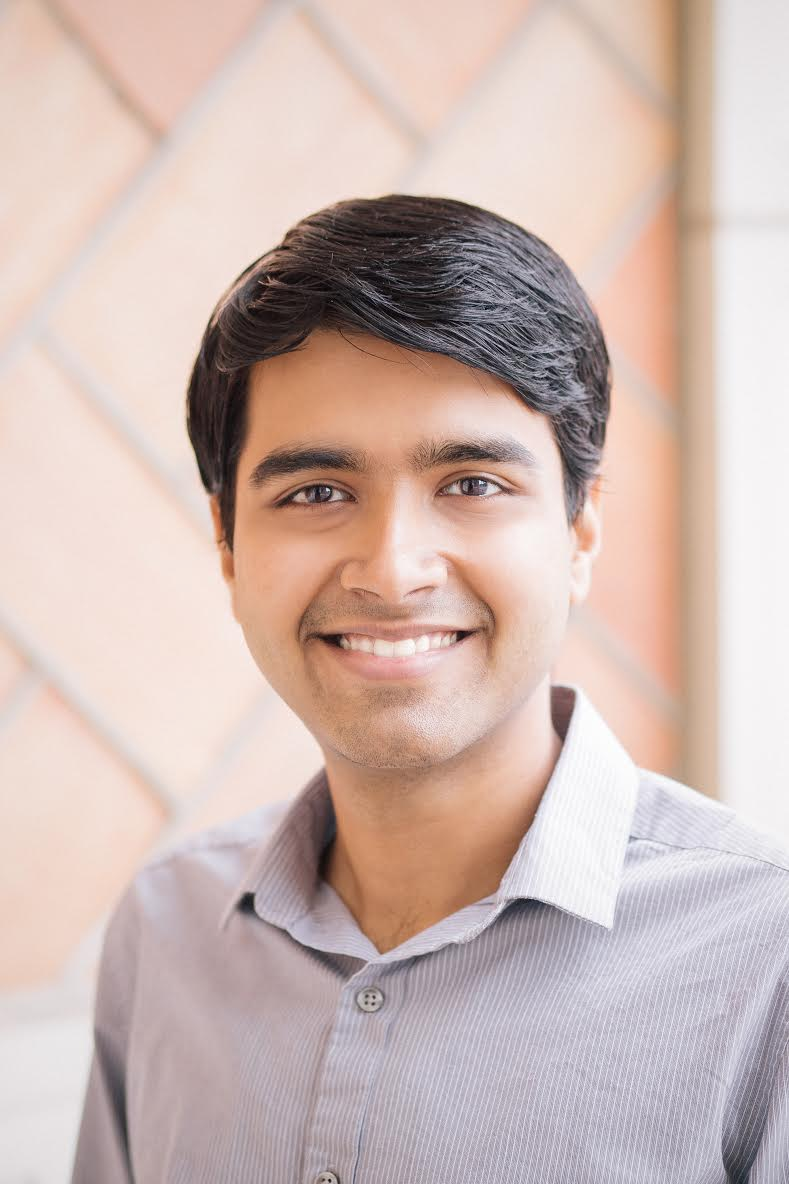 Swarun Kumar

Assistant Professor, Electrical and Computer Engineering
Carnegie Mellon University


Office: CIC Rm. 4102,
4720 Forbes Ave., Pittsburgh, PA 15213
Email:
swarun [at] cmu [dot] edu
---
Assistant:
Dawn Sienko,
Email: dsienko [at] andrew [dot] cmu [dot] edu
Phone: (412)-268-9192
I am an Assistant Professor at Carnegie Mellon University's ECE department, with a courtesy appointment in the CS department. My research builds next-generation wireless network protocols and services. I lead the Emerging Wireless Technologies (WiTech) lab at CMU. I am a recipient of the NSF CAREER award and Google Faculty Research award. I received the George Sprowls Award for best Ph.D thesis in Computer Science at MIT and the President of India gold medal at IIT Madras.
NEWS
Vaibhav Singh wins the James Sprague Presidential Fellowship from CIT!
Two papers accepted at MobiCom 2021 on mm-wave backscatter and cubesat groundstations
Read our perspective on full-duplex at HotNets 2020
CharIoT accepted at IEEE TMC 2020
RFTattoo wins Best Wearables Long Paper at UbiComp 2020!
Haojian Jin wins UbiComp Gaetano Borriello Outstanding Student Award!
Two papers at MobiCom 2020: mm-wave Full Duplex and Joltik!
Check out our RFID Tatoo paper at UbiComp 2020 and smart materials work at ACS Applied Materials & Interfaces
Osprey wins Best Paper Honorable Mention and Best Demo at MobiSys 2020!
QuAiL wins Best Paper Award at IPSN 2020 - explores new ways to rapidly track wildfires
Akshay Gadre receives the Best Presentation Award at IPSN 2020 PhD forum
Jingxian Wang receives the Microsoft Ph.D. Fellowship
Thank you NSF for the CAREER award!
Gave a talk on future wireless at TEDxPittsburgh!
SELECTED PUBLICATIONS
Millimetro: mmWave Retro-Reflective Tagsfor Accurate, Long Range Localization, Elahe Soltanaghaei (Co-Primary), Akarsh Prabhakara (Co-Primary), Artur Balanuta (Co-Primary), Matthew Anderson, Jan M. Rabaey, Swarun Kumar and Anthony Rowe, MobiCom 2021 [WEBSITE]


A Community-Driven Approach to Democratize Access to Satellite Ground Stations, Vaibhav Singh, Akarsh Prabhakara, Diana Zhang, Osman Yagan and Swarun Kumar, MobiCom 2021 [WEBSITE]


Quick (and Dirty) Aggregate Queries on Low-Power WANs, Akshay Gadre, Fan Yi, Anthony Rowe, Bob Iannucci and Swarun Kumar, IPSN 2020 (Best Paper Award) [PAPER] [WEBSITE]


Full Duplex Radios: Are we there yet?, Vaibhav Singh (Co-Primary), Akshay Gadre (Co-Primary) and Swarun Kumar, HotNets 2020 [PAPER] [WEBSITE]


Cross Technology Distributed MIMO for Low Power IoT, Revathy Narayanan, Swarun Kumar and C. Siva Ram Murthy, IEEE Transactions on Mobile Computing 2020 [WEBSITE]


Joltik: Enabling Energy-Efficient "Future-Proof" Analytics on Low-Power Wide-Area Networks, Mingran Yang, Junbo Zhang, Akshay Gadre, Zaoxing Liu, Swarun Kumar and Vyas Sekar, MobiCom 2020 [PAPER] [WEBSITE]


Osprey: A mmWave Approach to Tire Wear Sensing, Akarsh Prabhakara, Vaibhav Singh, Swarun Kumar and Anthony Rowe, MobiSys 2020 (Best Paper Honorable Mention) [PAPER] [SLIDES] [WEBSITE]


A Cloud-Optimized Link Layer for Low-Power Wide-Area Networks, Artur Balanuta, Nuno Pereira, Swarun Kumar and Anthony Rowe, MobiSys 2020 [PAPER] [WEBSITE]


Evolutionary Adaptations on Clustered Contact Networks, Rashad Eletreby, Yong Zhuang, Swarun Kumar and Osman Yagan, NetSci 2020 [PAPER] [WEBSITE]


Quick (and Dirty) Aggregate Queries on Low-Power WANs, Akshay Gadre, Fan Yi, Anthony Rowe, Bob Iannucci and Swarun Kumar, IPSN 2020 (Best Paper Award) [PAPER] [WEBSITE]


Millimeter-Wave Full Duplex Radios, Vaibhav Singh, Susnata Mondal, Akshay Gadre, Milind Srivastava, Jeyanandh Paramesh and Swarun Kumar, MobiCom 2020 [PAPER] [SLIDES] [WEBSITE]


Frequency Configuration for Low-Power Wide-Area Networks in a Heartbeat, Akshay Gadre, Revathy Narayanan, Anh Luong, Swarun Kumar, Anthony Rowe and Bob Iannucci, NSDI 2020 [PAPER] [WEBSITE]


RFID Tattoo: A Wireless Platform for Speech Recognition , Jingxian Wang, Chengfeng Pan, Haojian Jin, Vaibhav Singh, Yash Jain, Jason Hong, Carmel Majidi and Swarun Kumar, UbiComp 2020 (Best Wearables Long Paper) [PAPER] [WEBSITE]


You foot the bill! Attacking NFC with passive relays, Yuyi Sun, Swarun Kumar, Shibo He, Jiming Chen and Zhiguo Shi, IEEE IoT Journal 2020 [WEBSITE]


Silver-Coated PDMS Beads for Soft, Stretchable, and Thermally Stable Conductive Elastomer Composites , Chengfeng Pan, Yun Sik Ohm, Jingxian Wang, Michael J. Ford, Kitty Kumar, Swarun Kumar, and Carmel Majidi, ACS applied materials and interfaces 2019


Sozu: Self-Powered Radio Tags for Building-Scale Activity Sensing , Yang Zhang, Yasha Iravantchi, Haojian Jin, Swarun Kumar, and Chris Harrison, UIST 2019 [PAPER] [WEBSITE]


Perspective: eliminating channel feedback in next generation cellular networks , Deepak Vasisht, Swarun Kumar, Hariharan Rahul and Dina Katabi, ACM SIGCOMM CCR 2019


Software Defined Cooking using a Microwave Oven , Haojian Jin, Jingxian Wang, Swarun Kumar and Jason Hong, MobiCom 2019 (ACM GetMobile Research Hightlight) [PAPER] [SLIDES] [WEBSITE]


On the Feasibility of Wi-Fi Based Material Sensing , Diana Zhang, Jingxian Wang, Junsu Jang, Junbo Zhang, Swarun Kumar, MobiCom 2019 [PAPER] [SLIDES] [WEBSITE]


Pushing the Range Limits of Commercial Passive RFIDs , Jingxian Wang, Junbo Zhang, Rajarshi Saha, Haojian Jin, Swarun Kumar, NSDI 2019 [PAPER] [WEBSITE]


Revisiting Software Defined Radios in the IoT Era , Revathy Narayanan, Swarun Kumar, HotNets 2018


WiSh: Towards a Wireless Shape-aware World , Haojian Jin, Jingxian Wang, Zhijian Yang, Swarun Kumar, Jason Hong, MobiSys 2018 [PAPER] [WEBSITE]


Charm: Exploiting Geographical Diversity Through Coherent Combining in Low-Power Wide-Area Networks , Adwait Dongare, Revathy Narayanan, Akshay Gadre, Artur Balanuta, Anh Luong, Swarun Kumar, Bob Iannucci, Anthony Rowe, IPSN 2018 (Best Paper Award) [PAPER] [WEBSITE]


A Deep Learning Approach to IoT Authentication , Rajshekhar Das, Akshay Gadre, Shanghang Zhang, Swarun Kumar and Jose Moura, ICC 2018 [PAPER] [WEBSITE]


Towards Wearable Everyday Body-Frame Tracking , Haojian Jin, Zhijian Yang, Swarun Kumar, and Jason Hong, UbiComp 2018 (Best Demo Honorable Mention) [PAPER] [SLIDES] [WEBSITE]


Empowering Low-Power Wide Area Networks in Urban Settings , Rashad Eletreby, Diana Zhang, Swarun Kumar, and Osman Yagan, SIGCOMM 2017 [PAPER] [SLIDES] [WEBSITE]


Eliminating Channel Feedback in Next-Generation Cellular Networks , Deepak Vasisht, Swarun Kumar, Hariharan Rahul and Dina Katabi, SIGCOMM 2016 (Best Paper Award, GetMobile Research Highlight)


Decimeter-Level Localization with a Single WiFi , Access Point, Deepak Vasisht, Swarun Kumar and Dina Katabi, NSDI 2016


TEACHING
18-441/741 (Computer Networks), Spring 2018-20
18-859G (Wireless Networks and Mobile Systems -- DARPA SC2 Edition), Fall 2017-19
18-345 (Intro to Telecommunication Networks), Spring 2017
18-859F (Wireless Networks and Mobile Computing), Spring 2016
Ph.D STUDENTS
POST-DOCTORAL RESEARCHERS